Vol. 47 (2021), pp. 145–152 •


2.34 MB •
português
RESEARCH ADVANCE
Archaeometric Analysis of Ochres from the Entrada do Caminho da Caiçara Archaeological Site, Brazil
José Weverton Lima de Sousa, Luis Carlos Duarte Cavalcante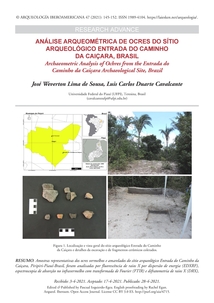 Abstract
Representative samples of the red and yellowish ochres from the Entrada do Caminho da Caiçara archaeological site, Piripiri-Piauí-Brazil, were analyzed by energy dispersive X-ray fluorescence (EDXRF), Fourier-transform infrared absorption spectroscopy (FTIR), and X-ray diffractometry (XRD), in order to determine the chemical-mineralogical composition and to identify the ferruginous species of these pictorial materials. The iron content for the mineral pigments, as determined by EDXRF, expressed as Fe2O3, is ~46 to ~63 mass% in the red ochres and ~44 to ~61 mass% in the yellowish ochres. The XRD and FTIR data show that the red ochres contain hematite, quartz, kaolinite, muscovite, illite, and anatase. The yellowish ochres contain goethite, quartz, kaolinite, hematite, muscovite, and anatase.
Keywords
Ochre; hematite; goethite; archaeometry.
Cite as
Sousa, J. W. L.; L. C. D. Cavalcante
. 2021.
Análise arqueométrica de ocres do sítio arqueológico Entrada do Caminho da Caiçara, Brasil.
Arqueología Iberoamericana
47: 145-152.
Other Persistent Identifiers
Publication date: April 28, 2021.