Vol. 48 (2021), pp. 3–7 •


556 KB •
español
RESEARCH ADVANCE
Recent Findings on Traditional Navigation in Northern Colombia
Wilhelm Londoño Díaz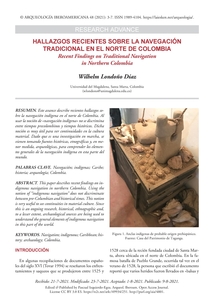 Abstract
This paper describes recent findings on indigenous navigation in northern Colombia. Using the notion of "indigenous navigation" does not discriminate between pre-Columbian and historical times. This notion is very useful to see continuities in material culture. Since this is an ongoing research, historical, ethnographic and, to a lesser extent, archaeological sources are being used to understand the general elements of indigenous navigation in this part of the world.
Keywords
Navigation; indigenous; Caribbean; history; archaeology; Colombia.
Cite as
Londoño Díaz, W.
2021.
Hallazgos recientes sobre la navegación tradicional en el norte de Colombia.
Arqueología Iberoamericana
48: 3–7.
Other Persistent Identifiers
Publication date: August 9, 2021.