Vol. 48 (2021), pp. 55–64 •


1.54 MB •
español
RESEARCH ARTICLE
Probable Migration of Nayarit Groups to the Bolaños Canyon
María Teresa Cabrero G.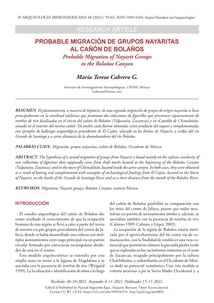 Abstract
The hypothesis of a second migration of groups from Nayarit is based mainly on the stylistic similarity of two collections of figurines that supposedly come from shaft tombs located at the beginning of the Bolaños Canyon (Valparaíso, Zacatecas) and in the town of Chimaltitán, located inside the same canyon. In both cases, they were obtained as a result of looting and complemented with examples of archaeological findings from El Cajón, located on the limits of Nayarit, on the banks of the Grande de Santiago River and at a short distance from the mouth of the Bolaños River.
Keywords
Migration; Nayarit groups; Bolaños Canyon; western Mexico.
Cite as
Cabrero G., M. T.
2021.
Probable migración de grupos nayaritas al cañón de Bolaños.
Arqueología Iberoamericana
48: 55-64.
Other Persistent Identifiers
Publication date: November 15, 2021.