Vol. 48 (2021), pp. 65–92 •


3.04 MB •
español
RESEARCH ARTICLE
Organological Structure and Sound Effect of an Anthropomorphic Triple Ellipsoid Bottle with Double Whistle from the Bahia Culture of Ecuador (600 BC–650 AD)
Mónica A. Ayala Esparza, Mónica M. H. Polanco De Luca, Tomás Espinosa,
Arnaud Gérard A., Bruna A. Regalado Díaz, Eduardo P. Estévez Ruiz,
Patricio Jácome-Monar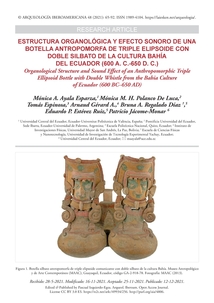 Abstract
The purpose of this research is to bring the reader closer to the knowledge of ceramics, materials, acoustics and symbology present in the anthropomorphic bottle of triple communicating ellipsoid with double whistle of the Bahia culture of the Republic of Ecuador through the multidisciplinary study of the sonorous artifact. In this study, the application of a qualitative and quantitative methodology developed through documentary research, complemented with techniques of analysis of materials in the laboratory, acoustic metrics, tests of sound possibilities and production of clay replicas was proposed. These contributions allow us to define the bottle as a complex acoustic object in which multiple knowledge developed during more than a thousand years of evolution converge.
Keywords
Whistle bottle; Bahia culture; ancestral acoustics; Ecuador.
Cite as
Ayala Esparza, M. A.; M. M. H. Polanco De Luca; T. Espinosa; A. Gérard A.; B. A. Regalado Díaz;
E. P. Estévez Ruiz; P. Jácome-Monar
. 2021.
Estructura organológica y efecto sonoro de una botella antropomorfa de triple elipsoide con doble silbato de la cultura Bahía del Ecuador (600 a. C.-650 d. C.).
Arqueología Iberoamericana
48: 65-92.
Other Persistent Identifiers
Publication date: December 12, 2021.