Vol. 48 (2021), pp. 93–102 •


889 KB •
español
RESEARCH ARTICLE
Miscellaneous Maya Hieroglyphic Inscriptions on Early Classic Pottery from Tikal National Park, Guatemala
Dmitri Beliaev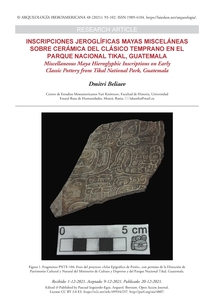 Abstract
The "Epigraphic Atlas of Peten, Phase I" project, carried out in 2013, was oriented to the documentation and analysis of Maya inscriptions preserved in Tikal National Park. During the field work with the ceramic collections of the Tikal Conservation and Research Center (CCIT), were re-documented several fragments with hieroglyphic texts that had not received much attention from epigraphists until now. One of them provides information on the dynastic account of an unknown royal lineage from the Peten, and another contains the earliest mention of the enigmatic title 'tumam'.
Keywords
Maya Lowlands; Peten; Tikal; pottery; Mayan epigraphy.
Cite as
Beliaev, D.
2021.
Inscripciones jeroglíficas mayas misceláneas sobre cerámica del Clásico Temprano en el Parque Nacional Tikal, Guatemala.
Arqueología Iberoamericana
48: 93-102.
Other Persistent Identifiers
Publication date: December 20, 2021.