Vol. 48 (2021), pp. 103–108 •


201 KB •
español
RESEARCH ARTICLE
On the Law of Collapse of Civilizations according to the Archaeology of Social Phenomena
Pascual Izquierdo-Egea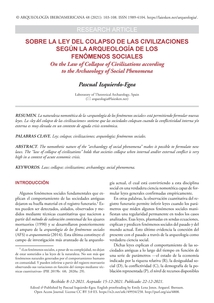 Abstract
The nomothetic nature of the "archaeology of social phenomena" makes it possible to formulate new laws. The "law of collapse of civilizations" holds that societies collapse when internal and/or external conflict is very high in a context of acute economic crisis.
Keywords
Law; collapse; civilizations; archaeology; social phenomena.
Cite as
Izquierdo-Egea, P.
2021.
Sobre la ley del colapso de las civilizaciones según la arqueología de los fenómenos sociales.
Arqueología Iberoamericana
48: 103-108.
Other Persistent Identifiers
Publication date: December 22, 2021.