1.09 MB •
español
RESEARCH ADVANCE
La Encañada Cave: An Archaic Site in Chiapas
Guillermo Acosta Ochoa, Patricia Pérez Martínez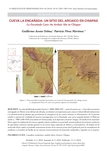 Abstract
The sites of the so-called Archaic period (c. 9000–2000 BCE) have been scarcely investigated in Mexico in the last two decades. However, they are important for understanding the development of sedentary communities and plant domestication that allowed the emergence of urban centers in Mesoamerica. In this study we present the results of our research in La Encañada, a cave west of Ocozocoautla, in the Central Depression of Chiapas, occupied during the Middle Holocene (c. 7000–2200 BCE). The study of lithic artifacts suggests the exploitation of plant resources and medium-size fauna in a period characterized by the first evidence of extensive agriculture (slash-and-burn) in the tropical lowlands of Mexico and Central America. The analysis of lithic materials indicates the probable heat treatment of the local raw material (flint) for the manufacture of artifacts, and the use-wear analysis mainly shows the processing of wood and vegetable materials.
Keywords
Hunter-gatherers; lithic analysis; Archaic; Chiapas.
Cite as
Acosta Ochoa, G., P. Pérez Martínez. 2018.
Cueva La Encañada: un sitio del Arcaico en Chiapas. Arqueología Iberoamericana 40: 39-44.
Other Persistent Identifiers
Publication date: November 15, 2018.