852 KB •
español
RESEARCH ARTICLE
The Pyramids and Temples of Gizeh: Flinders Petrie, a Nineteenth Century Archaeologist
Alberto Camacho Ríos, Bertha Ivonne Sánchez Luján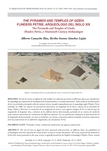 Abstract
The site of Giza in Egypt has been measured with precision, at different times, by expeditions of archaeologists who have reported the results of their surveys in various documents. All surveys measured the dimensions of the three main pyramids on the same vertices originally located by the English archaeologist Flinders Petrie, around 1880. His reports allowed us to determine the lengths of the bases and heights of the pyramids of Cheops, Chephren and Mykerinos. The translation of these lengths of meters to ancient Egyptian feet of 0.3 meters shows that the magnitudes of length, area, and volume of the buildings were determined starting from a measurement system whose numbers represent the revolutions of different planets. In this paper, we determine the lengths of the pyramids and their translation to that system, as well as the important numerical results between the proportions of their different magnitudes with those of the planet Earth.
Keywords
Pyramids; Giza; planetary revolutions; Egyptian foot; proportions.
Cite as
Camacho Ríos, A., B. I. Sánchez Luján. 2018.
The Pyramids and Temples of Gizeh: Flinders Petrie, arqueólogo del siglo XIX.
Arqueología Iberoamericana 40: 45-53.
Other Persistent Identifiers
Publication date: November 22, 2018.