Vol. 42 (2019), pp. 50–53 •


338 KB •
español
RESEARCH NOTE
Measuring the Degree of Urban Development through the Mortuary Record
Pascual Izquierdo-Egea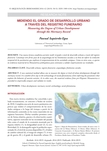 Abstract
A new statistical method allows one to measure the degree or level of urban development through the mortuary record. It is another firm step in the archaeology of social phenomena when inferring the parameters that explain the behavior of ancient societies. As in other cases, the material evidence from pre-Hispanic Mesoamerica is provided to empirically compare and validate its results.
Keywords
Urban development; mortuary record; archaeology; social phenomena.
Cite as
Izquierdo-Egea, P. 2019. Midiendo el grado de desarrollo urbano a través del registro funerario.
Arqueología Iberoamericana 42: 50-53.
Other Persistent Identifiers
Publication date: June 30, 2019.