Vol. 43 (2019), pp. 52–61 •


2.61 MB •
español
RESEARCH ARTICLE
Traditional Illustration and Archaeoarchitectural Reconstruction: Pedagogical Considerations
José Luis Crespo-Fajardo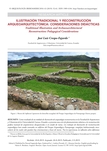 Abstract
This article presents a series of approaches to the illustrated reconstruction of architecture that has disappeared or is in a state of ruin that were developed as a result of an experimental module titled "Archaeoarchitectural Graphic Reconstruction" at the Faculty of Architecture and Urbanism, University of Cuenca, Ecuador. Our work in archaeological illustration and architectural reconstruction has focused on buildings in the Pumapungo Archaeological Park, specifically Inca-Cañari housing complexes of which only foundations and the bases of walls remain today. Through this experience, reflection on different questions that arose in the teaching of this module allows us to concretize pedagogical approaches and useful recommendations for the better planning and implementation of this type of course.
Keywords
Illustration; archaeoarchitectural; reconstruction; pedagogy.
Cite as
Crespo-Fajardo, J. L. 2019. Ilustración tradicional y reconstrucción arqueoarquitectónica: consideraciones didácticas. Arqueología Iberoamericana 43: 52-61.
Other Persistent Identifiers
Publication date: September 2, 2019.