Vol. 43 (2019), pp. 67–70 •


314 KB •
español
RESEARCH NOTE
On the Fundamental Law of the Archaeology of Social Phenomena
Pascual Izquierdo-Egea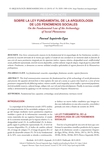 Abstract
This brief communication enunciates the fundamental law of the archaeology of social phenomena and presents the equation derived from it that explains the state of a society at a given time based on a series of nine parameters integrated by the following indexes: relative wealth, social inequality, social conflict, represented population, level of available resources, cultural change, collapse risk, war risk and urban development. Finally, its enormous scientific utility is demonstrated by applying it to the mortuary record of pre-Hispanic Mesoamerica.
Keywords
Fundamental law; equation; archaeology; social phenomena; mortuary record.
Cite as
Izquierdo-Egea, P. 2019.
Sobre la ley fundamental de la arqueología de los fenómenos sociales.
Arqueología Iberoamericana 43: 67-70.
Other Persistent Identifiers
Publication date: September 30, 2019.