Vol. 44 (2019), pp. 3–9 •


936 KB •
español
RESEARCH ADVANCE
Archaeomagnetic Intervention in El Ocote (Aguascalientes, Mexico): Implications for Absolute Chronology
Rubén Cejudo Ruiz, Rafael García Ruiz, Ana Pelz Marín, Avto Goguitchaichvili,
Juan Morales, Miguel Cervantes Solano, Francisco Bautista Zúñiga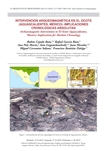 Abstract
While southern and central Mesoamerica have attracted numerous high-standard archaeological and archaeometric investigations, most of the sites belonging to the western regions and especially to the north remain understudied. The absence of detailed absolute chronology is considered a major weakness of these sites. Until recently, the history of Aguascalientes was relegated to a place of passage of the Chichimec groups, whose culture developed until the arrival of the Spaniards. However, thanks to the archaeological research carried out by the National Institute of Anthropology and History, the presence of former settlers, who had their own social organization and left testimony of great constructions, has been demonstrated. Here we present an analysis of a floor with apparent evidence of exposure to fire belonging to a more recent stage of the site, as it is located in the upper layer of the stratigraphic record. In situ measurements of magnetic susceptibility allowed for delimitation of the area of studied floor with evidence of high temperatures. A directional study was conducted on 38 samples corresponding to 6 fragments oriented in situ, distributed throughout the uncovered area of the floor. Very few samples are characterized by a single-component magnetization of thermoremanent origin while most of them present evidence of unstable and chaotic behavior during treatments by alternating fields or the presence of strong secondary magnetizations. The primary archeodirections were determined only for 6 samples out of 38 analyzed. Archaeomagnetic dating indicates a possible interval of the last burning of the floor between 916 and 1088 A.D., which corresponds to the late stage of the site, dated until now between 650 and 900 A.D., in the so-called Epiclassic period.
Keywords
Dating; chronology; El Ocote; Aguascalientes; Mexico.
Cite as
Cejudo Ruiz, R., R. García Ruiz, A. Pelz Marín, A. Goguitchaichvili, J. Morales, M. Cervantes Solano, F. Bautista Zúñiga. 2019. Intervención arqueomagnética en El Ocote (Aguascalientes, México): implicaciones cronológicas absolutas. Arqueología Iberoamericana 44: 3-9.
Other Persistent Identifiers
Publication date: October 1, 2019.