Vol. 44 (2019), pp. 50–59 •


1.03 MB •
español
RESEARCH ARTICLE
Life and Death in the Bolaños Culture
María Teresa Cabrero G.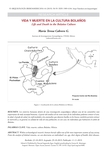 Abstract
Within archaeological research, human burials reflect one of the most important customs of any society. From the analysis of skeletal remains, we can determine an individual's sex, age, their degree of health, their diseases, and any anomalies that left traces in their bones. Analysis also allows for the estimation of the nutrition and, in general, the quality of life of a population; in this case, the individuals that inhabited the Bolaños canyon.
Keywords
Life; death; Bolaños culture; Mexico.
Cite as
Cabrero G., M. T. 2019.
Vida y muerte en la cultura Bolaños.
Arqueología Iberoamericana 44: 50-59.
Other Persistent Identifiers
Publication date: November 11, 2019.