Vol. 46 (2020), pp. 3–10 •


1.95 MB •
español
RESEARCH ADVANCE
Magnetic, Geochemical and Colorimetric Characterization of the Pottery from El Ocote (Aguascalientes, Mexico)
Rafael García, Rubén Cejudo, Ana Pelz Marín, María del Sol Hernández-Bernal,
Francisco Bautista, Avto Goguitchaichvili, Juan Morales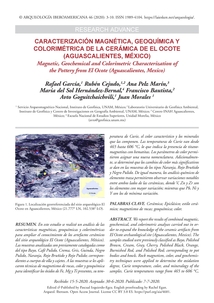 Abstract
We report the results of combined magnetic, geochemical, and colorimetric analyses carried out in order to expand the knowledge of the ceramic artifacts from El Ocote archaeological site (Aguascalientes, Mexico). The samples studied were previously classified as Bayo, Polished Brown, Cream, Gray, Cherry, Polished Black, Orange, Burnished Red, and Polished Red; corresponding to pot bodies and bowls. Rock magnetism, color, and geochemistry techniques were applied to determine the oxidation degree, Curie temperature, color, and mineralogy of the samples. Curie temperatures range from 465 to 606 °C, indicating the presence of titanomagnetites with hematites. New color parameters allowed us to assign new nomenclature. In addition, the most significant color changes were found to occur in the Orange, Burnished Red, and Polished Black samples. Similarly, the chemical analyses of their trace elements allowed us to observe notable variations between both sides of the pottery; V, Zn, and Zr are the elements with the greatest variation while Pb, Ni, and Y showed minor changes.
Keywords
Pottery; Epiclassic; ceramic style; rock magnetism; geochemistry; colour.
Cite as
García, R., R. Cejudo, A. Pelz Marín, M. S. Hernández-Bernal, F. Bautista, A. Goguitchaichvili, J. Morales. 2020. Caracterización magnética, geoquímica y colorimétrica de la cerámica de El Ocote (Aguascalientes, México). Arqueología Iberoamericana 46: 3-10.
Other Persistent Identifiers
Publication date: July 7, 2020.