Vol. 46 (2020), pp. 34–44 •


2.06 MB •
español
RESEARCH ARTICLE
The Implementation of GIS in Excavation: The Case Study of the Las Orquideas and Huataviro Sites (Imbabura, Ecuador)
Carlos E. Montalvo Puente, Eric Dyrdahl, Matteo Cantisani,
Luca de Fabritiis, Stefano Vinci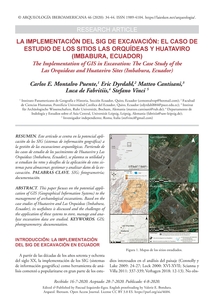 Abstract
This paper focuses on the potential application of GIS (Geographical Information Systems) to the management of archaeological excavations. Based on the case studies of Huataviro and Las Orquideas (Imbabura, Ecuador), its usefulness is discussed and the challenges of the application of these systems to store, manage and analyze excavation data are studied.
Keywords
GIS; photogrammetry; documentation.
Cite as
Montalvo Puente, C. E., E. Dyrdahl, M. Cantisani, L. de Fabritiis, S. Vinci. 2020.
La implementación del SIG de excavación: el caso de estudio de los sitios Las Orquídeas y Huataviro (Imbabura, Ecuador). Arqueología Iberoamericana 46: 34-44.
Other Persistent Identifiers
Publication date: August 4, 2020.