Vol. 46 (2020), pp. 111–117 •


80.9 KB •
español
REVIEW ARTICLE
Social Classes in Precapitalist Societies?
Pascual Izquierdo-Egea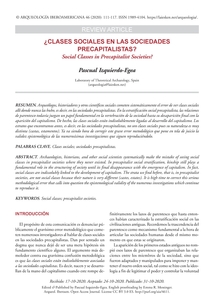 Abstract
Archaeologists, historians, and other social scientists systematically make the mistake of seeing social classes in precapitalist societies where they never existed. In precapitalist social stratification, kinship still plays a fundamental role in the structuring of society until its final disappearance with the emergence of capitalism. In fact, social classes are indissolubly linked to the development of capitalism. The strata we find before, that is, in precapitalist societies, are not social classes because their nature is very different (castes, estates). It is high time to correct this serious methodological error that calls into question the epistemological validity of the numerous investigations which continue to reproduce it.
Keywords
Social classes; precapitalist societies.
Cite as
Izquierdo-Egea, P. 2020.
¿Clases sociales en las sociedades precapitalistas?
Arqueología Iberoamericana 46: 111-117.
Other Persistent Identifiers
Publication date: October 31, 2020.