Vol. 46 (2020), pp. 147–150 •


490 KB •
español
RESEARCH NOTE
Byzantines in the Strait of Gibraltar: The First Early Byzantine Ampulla from Carteia
José Ángel Expósito Álvarez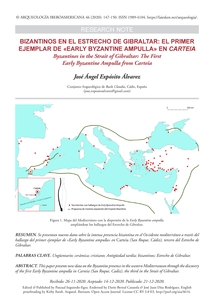 Abstract
This paper presents new data on the Byzantine presence in the western Mediterranean through the discovery of the first Early Byzantine ampulla in Carteia (San Roque, Cadiz), the third in the Strait of Gibraltar.
Keywords
Unguentarium; pottery; Christian; Late Antiquity; Byzantines; Strait of Gibraltar.
Cite as
Expósito Álvarez, J. A. 2020.
Bizantinos en el Estrecho de Gibraltar: el primer ejemplar de «Early Byzantine ampulla» en Carteia. Arqueología Iberoamericana 46: 147-150.
Other Persistent Identifiers
Publication date: December 21, 2020.