Vol. 47 (2021), pp. 41–52 •


999 KB •
español
RESEARCH ARTICLE
Conjectures about the Breakdown of the High Imperial Urban Model in Hispania: The Late Antonine and Early Severan Phase (138–211 AD)
Diego Romero Vera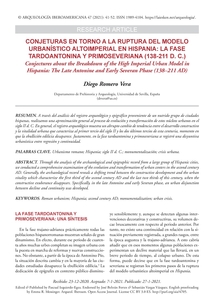 Abstract
Through the analysis of the archaeological and epigraphic record from a large group of Hispanic cities, we conducted a comprehensive examination of the evolution and transformation of urban centers in the second century AD. Generally, the archaeological record reveals a shifting trend between the constructive development and the urban vitality which characterize the first third of the second century AD and the last two thirds of this century, when the constructive exuberance disappears. Specifically, in the late Antonine and early Severan phase, an urban disjunction between decline and continuity was developed.
Keywords
Roman urbanism; Hispania; second century AD; monumentalization; urban crisis.
Cite as
Romero Vera, D.
2021.
Conjeturas en torno a la ruptura del modelo urbanístico altoimperial en Hispania: la fase tardoantonina y primoseveriana (138-211 d. C.).
Arqueología Iberoamericana
47: 41-52.
Other Persistent Identifiers
Publication date: January 27, 2021.