Vol. 52 (2023), pp. 87–97 •


1.34 MB • español
RESEARCH ARTICLE
On the Cultural Dynamics Developed by the Bolaños Culture and its Relationship with Western and Northern Mexico
María Teresa Cabrero G.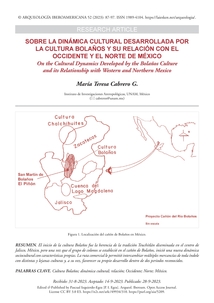 Abstract
The beginning of the Bolaños culture was the inheritance of the Teuchitlan tradition disseminated in central Jalisco, Mexico, but once the settlers established themselves in the Bolaños Canyon, they initiated a new socio-cultural dynamic with its own characteristics. The trade route allowed them to exchange multiple goods of all kinds with different and distant cultures and, in turn, favored their own development within two recognized periods.
Keywords
Bolaños culture; cultural dynamics; relationship; western; northern; Mexico.
Cite as
Cabrero, M. T.
2023.
Sobre la dinámica cultural desarrollada por la cultura Bolaños y su relación con el Occidente y el Norte de México.
Arqueología Iberoamericana
52: 87–97.
Other Persistent Identifiers
Publication date: September 28, 2023.