15.7 MB
AVANCES EN ARQUEOMAGNETISMO Y GEOFÍSICA APLICADA I
Advances in Archaeomagnetism & Applied Geophysics I
Avto Goguitchaichvili, ed.
(Servicio Arqueomagnético Nacional y Laboratorio Interinstitucional de Magnetismo Natural, Instituto de Geofísica, Universidad Nacional Autónoma de México, Campus Morelia, Mexico)
Advances in Archaeology 4 (2018), Compilation, 105 pages, PDF, 15.7 MB, Open Access.
Keywords: Advances; Archaeomagnetism; Applied Geophysics.
Contents
Sobre la edad de los hornos de cal en el área maya (p. 3); Nuevas evidencias sobre la edad de abandono del sitio arqueológico Plazuelas (Guanajuato, México) mediante la datación arqueomagnética de un piso quemado (p. 10); Evidencia de escorias de cobre prehispánicas en el área de Santa Clara del Cobre, Michoacán, Occidente de México (p. 16); Primer intento de datación de pinturas murales mesoamericanas (p. 22); Datación de tinajas arqueológicas del sitio Guachimontones, Occidente de Mesoamérica (p. 28); Dataciones arqueomagnéticas en la ciudadela de Teotihuacan, Sierra de las Navajas y Xalasco (p. 34); Revaluación de la cronología de erupciones del volcán Vesubio (Italia) a partir de 79 A. D. (p. 40); Archaeomagnetic Dating of the Eruption of Xitle Volcano, Basin of Mexico: Implications for the Mesoamerican Centers of Cuicuilco and Teotihuacan (p. 47); Primeros resultados de arqueointensidades de Colombia: sitios prehispánicos en el valle del río Magdalena (Honda-Tolima y Puerto Bogotá-Cundinamarca) (p. 54); Guachimontones de Teuchitlán: un estudio arqueomagnético para mejorar la cronología del Occidente de México (p. 62); Coercivity and Vector Magnetization Analysis of Obsidian Samples from the Trans-Mexican Volcanic Belt (p. 70); Aportes a la cronología absoluta de la estancia jesuítica de Alta Gracia (Córdoba, Argentina): estudio arqueomagnético de la baldosa de la parroquia Nuestra Señora de la Merced (p. 76); Intervención arqueomagnética del horno de la hacienda San Pedro Cholul (Mérida, Yucatán) (p. 84); Tomografía de resistividad eléctrica 3D en la Catedral de Morelia, México (p. 91); Archaeomagnetic Study of the Edificio de las Columnas Complex, El Tajin, Mesoamerica (p. 98).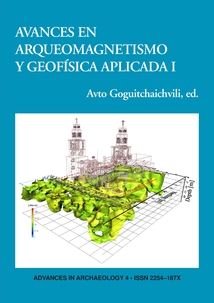 Reference
Goguitchaichvili, A., ed. 2018.
Avances en Arqueomagnetismo y Geofísica Aplicada I
.
Advances in Archaeology 4. Graus. ISSN 2254-187X. https://www.laiesken.net/advances/volume/04.
http://purl.org/aa/04
.
Published in Graus, Spain. Date: September 14, 2018.