2.56 MB •
español
RESEARCH ARTICLE
Inca Appropriation in the Chilla Mountain Range, Southwest of the Andes of Ecuador: the Case of the Guiñayzhu Site
Mary Jadán V.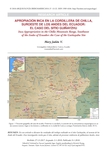 Abstract
In this article, the results of research carried out in Guiñayzhu, located at the southwest of the Andes of Ecuador, are discussed. This work reveals that in addition to presenting evidence of local populations, the site has colcas or qullqas for the storage of products, terraces of pirca, and roads paved with stone, among other constructions. Guiñayzhu is interpreted as one of the sites of the Chilla mountain range that reflects the expansion of the Inca and expresses an effective domination of this region, representing a strategic enclave of the empire in its advance northward.
Keywords
Chilla mountain range, strategic enclave, Inca expansion, colcas, qullqas.
Cite as
Jadán V., M. 2018.
Apropiación inca en la cordillera de Chilla, suroeste de los Andes del Ecuador: el caso del sitio Guiñayzhu. Arqueología Iberoamericana 37: 13-22.
Other Persistent Identifiers
Publication date: January 9, 2018.