1.22 MB •
português
RESEARCH ADVANCE
Chemical-Mineralogical Characterization of Saline Efflorescences from the Pedra do Atlas Archaeological Site
Luis Carlos Duarte Cavalcante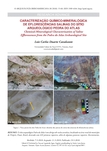 Abstract
The Pedra do Atlas archaeological site, a sandstone shelter located in the rural area of the municipality of Piripiri, Piaui, Brazil, is decorated with 423 rupestrian paintings as well as some engravings. Recently, ceramic fragments, red and yellow ochres, and some lithics were found on the shelter's surface. Samples of saline efflorescence were analyzed by energy dispersive X-ray fluorescence (EDXRF) and powder X-ray diffractometry (XRD). From these analyses, sveite, KAl7(NO3)4Cl2(OH)16.8H2O, quartz, SiO2, alunite, KAl3(SO4)2(OH)6, gypsum, CaSO4.2H2O, and calcite, CaCO3, were identified. The analysis of saline efflorescences is very important, not only from a chemical-mineralogical point of view, but for conservation of the sandstone walls and the rock art. The saline deposits are causing the destruction of the rupestrian paintings.
Keywords
Rock art conservation; saline efflorescences; Archaeometry; Pedra do Atlas.
Cite as
Duarte Cavalcante, L. C. 2017.
Caracterização químico-mineralógica de eflorescências salinas do sítio arqueológico Pedra do Atlas. Arqueología Iberoamericana 36: 55-60.
Other Persistent Identifiers
Publication date: May 19, 2018.