976 KB •
español
RESEARCH ADVANCE
Ceramic Technology from Los Radales 1. Late Pottery Period (El Vergel), East Cordilleran Sector of the Valdivian Basin (Neuquen, Argentine Patagonia)
Alberto E. Pérez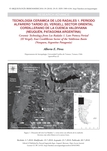 Abstract
The site Los Radales 1 represents the first systematic study of the recently characterized "eastern cordilleran sector of the archaeological area of the Valdivian River Basin". It is a unique occupation event, dating from 480 ± 60 years BP (wood, LP 3035), in the context of the Late Pottery Period; with ceramics from the red on white bichrome tradition, and including the first eastern cordilleran record of tricolor pottery. This paper presents the characterization of the lithic and ceramic assemblages of this site, its chronology and the main features shared with other known assemblages from the regions of Panguipulli and Villarrica, in the central-southern area of Chile.
Keywords
Late Pottery Period; northwestern Patagonia; lithics; ceramics.
Cite as
Publication date: July 30, 2018.