535 KB •
español
RESEARCH ARTICLE
The Metate/Metlapil Binomial in the Vindobonensis Codex: A Case Study
José R. Rodríguez-Yc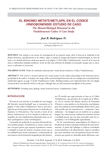 Abstract
This work is a research advance of a major project on the subject of grinding in the historical sources, specifically in the codices. It analyzes the image of the metate/metlapil binomial, the corn dough and a tied polychrome symbol that appears on page 15 of the Vindobonensis Codex. Multiple products were elaborated from the corn dough, several of them were food for deities in the past, although they are still consumed and offered in the present.
Keywords
Grinding stone; feeding; ritual; historical sources; Vindobonensis Codex.
Cite as
Rodríguez-Yc, J. R. 2018.
El binomio metate/metlapil en el Códice Vindobonensis: estudio de caso.
Arqueología Iberoamericana 39: 57-66.
Other Persistent Identifiers
Publication date: September 4, 2018.