2.48 MB •
español
RESEARCH ARTICLE
Aboriginal Roads Connected to the Qhapaq Ñan, the Chanchan River Basin, Chimborazo Province, Ecuador
Mary Jadán, Pedro A. Carretero, Bolívar Galarza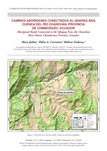 Abstract
This article explains and analyzes some of the pre-Inca or aboriginal roads of the Chanchan River basin that were linked with pre-Hispanic populations such as Puñay, Nantza, Cochabamba, Pacchala, Santa Rosa, Paccha, Llagos, Nizag, Guasuntos, Pumallacta, Seville and others. Some of these communities continue to exist today and still have a relationship with the roads. Most of these road networks were mapped before the arrival of the Incas and continue to serve the different communities that provide maintenance through mingas. Archaeological and historical studies show a high presence of Cañari, Puruha and Inca peoples that left their mark in these places. An important road ascends to Cerro Puñay on the north side, from the localities of Nantza, Huigra and Pagma; a path that could be considered religious based on the qualities of its construction. Another valuable route is the one that crosses between Nantza and Nizag, which the Incas connected to the Qhapaq Ñan of the Nudo del Azuay sector; it also served as a connection to the coastal region. These routes were rebuilt and used by the Inca Empire.
Keywords
Aboriginal roads; Qhapaq Ñan; Cañari; Puruha; Chanchan River; Puñay; Nizag.
Cite as
Jadán, M., P. A. Carretero, B. Galarza. 2018.
Caminos aborígenes conectados al Qhapaq Ñan, cuenca del río Chanchán, provincia de Chimborazo, Ecuador. Arqueología Iberoamericana 40: 54-64.
Other Persistent Identifiers
Publication date: December 14, 2018.