Vol. 41 (2019), pp. 3–11 •


1.19 MB •
español
RESEARCH ARTICLE
Transformations in Urban Geography: The Yucatan Peninsula during the 16th Century
Gaia Carosi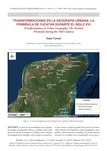 Abstract
Basing on the methodology used for ancient topography and urban geography, this paper analyses which were the most important centers in Yucatan before and after the arrival of the Spanish, how the situation changed and on which towns the new colonial order was based; depending on geographical, topographical, administrative and symbolic factors. Particular attention is paid to showing how it was taken advantage of the pre-Hispanic situation, through a complex and multifaceted diachronic view.
Keywords
Urbanism; Yucatan; Urban Geography; Maya; Ancient Topography.
Cite as
Carosi, G. 2019.
Transformaciones en la geografía urbana: la península de Yucatán durante el siglo XVI. Arqueología Iberoamericana 41: 3-11.
Other Persistent Identifiers
Publication date: January 10, 2019.