Vol. 41 (2019), pp. 41–44 •


294 KB •
español
RESEARCH NOTE
A New Bibliometric Index to Measure the Impact of Scientific Production
Pascual Izquierdo-Egea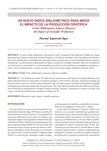 Abstract
A new bibliometric index (iX) allows for the measurement of the impact of scientific production with greater objectivity than the impact factor of Clarivate Analytics or the CiteScore of Scopus. Instead of privileging the relevance of the citations received over the publications made, this index proposes to consider both parameters equally, making them directly proportional to the measured impact. The results obtained confirm the value of this new technique and recommend its widespread use to evaluate academic journals, researchers, institutions or countries. As proof, a list is given with the first hundred states classified according to the iX.
Keywords
Bibliometric index; impact; scientific production.
Cite as
Izquierdo-Egea, P. 2019.
Un nuevo índice bibliométrico para medir el impacto de la producción científica.
Arqueología Iberoamericana 41: 41-44.
Other Persistent Identifiers
Publication date: March 11, 2019.