Vol. 41 (2019), pp. 52–61 •


402 KB •
español
RESEARCH ARTICLE
Smell of Blood. The North Atlantic Basque Fishing in Modern Times Interpellated from a Colonial and Sensorial Position
Sergio Escribano-Ruiz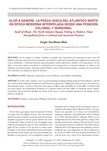 Abstract
In this work, I propose a new way of interpreting the Basque fishing along the North Atlantic, with the aim of overcoming traditional economicist and Eurocentric approaches. Adding new points of views and concerns to those already in place, I will try to show how many topics are left to study and reflect on. In this effort, I will deal with two main aspects: the consideration of fisheries in a colonial context and their effects on European sensory regimes. Combining critical historical thought and history of the senses, a more emotional approach to the Basque overseas fisheries is proposed.
Keywords
Fisheries; Colonialism; Whaling; Sensoriality; Corporality.
Cite as
Escribano-Ruiz, S. 2019.
Olor a sangre. La pesca vasca del Atlántico Norte en época moderna interpelada desde una posición colonial y sensorial. Arqueología Iberoamericana 41: 52-61.
Other Persistent Identifiers
Publication date: March 22, 2019.