Vol. 43 (2019), pp. 3–11 •


96.6 KB •
español
REVIEW ARTICLE
New Systems of Academic Information: Three Proposals to Enrich a Journal's Impact Factor
Eva Aladro-Vico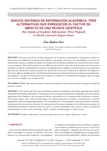 Abstract
This text describes the recent contributions of experts and European institutions regarding issues with the dissemination of academic information. The findings can be summarized in three factors: inequality in access to academic information, loss of quality in the assessment of content, and problems in the communication of advances in research. These factors appear due to three essential causes: the commercialization of academic communications, economic globalization, and technological digitalization. The article follows the recommendations made by institutions and experts and proposes three necessary interventions: the improvement of the impact indexation in the dissemination systems, the establishment of internal evaluation systems by experts at research institutions, and a plan to restore the quality of communications in the research community, which is vital for scientific progress in today's society.
Keywords
Academic information; assessment systems; open science; impact indexes; peer review.
Cite as
Aladro-Vico, E. 2019. Nuevos sistemas de información académica: tres alternativas que enriquecen el factor de impacto de una revista científica. Arqueología Iberoamericana 43: 3-11.
Other Persistent Identifiers
Publication date: July 8, 2019.