Vol. 46 (2020), pp. 118–124 •


1.09 MB •
español
RESEARCH ARTICLE
War and the Uacusecha Lords in Michoacan: Their Symbols of Power
José Luis Punzo Díaz, Jasinto Robles Camacho, Giovanni Sosa Ceballos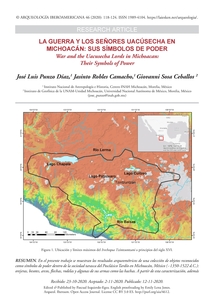 Abstract
This paper presents the archaeometric results of a collection of objects recognized as symbols of power within the Late Postclassic Tarascan society in Michoacan, Mexico (~1350-1522 AD): earplugs, lip plugs, bows, arrows, circular metal sheets, and weapons such as axes. We then use these results to analyze the role and symbolism of these objects within the worldview of that society and to explore the role of the Uacusecha lords in war and in cohesion of the empire.
Keywords
West Mexico archaeology; power; Tarascan archaeology; archaeometry; metallurgy.
Cite as
Punzo Díaz, J. L., J. Robles Camacho, G. Sosa Ceballos. 2020.
La guerra y los señores uacúsecha en Michoacán: sus símbolos de poder.
Arqueología Iberoamericana 46: 118-124.
Other Persistent Identifiers
Publication date: November 12, 2020.