Vol. 49 (2022), pp. 3–8 •


896 KB • español
RESEARCH ADVANCE
Archaeological Survey of Tzintzuntzan, an Ancient City in Michoacan, by means of LiDAR Technology: First Results
José Luis Punzo Díaz, Fernanda Lucía Navarro Sandoval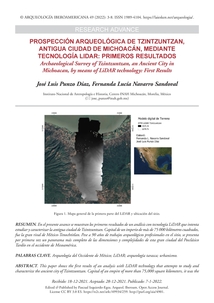 Abstract
This paper shows the first results of an analysis with LiDAR technology that attempts to study and characterize the ancient city of Tzintzuntzan. Capital of an empire of more than 75,000 square kilometers, it was the great rival of Mexico-Tenochtitlan. Despite 90 years of professional archaeological work at the site, we present for the first time a more complete overview of the dimensions and complexities of this great Late Postclassic city in western Mesoamerica.
Keywords
Archaeology of western Mexico; LiDAR; Tarascan archaeology; urbanism.
Cite as
Punzo, J. L.; F. L. Navarro.
2022.
Prospección arqueológica de Tzintzuntzan, antigua ciudad de Michoacán, mediante tecnología LiDAR: primeros resultados.
Arqueología Iberoamericana
49: 3-8.
Other Persistent Identifiers
Guaranteed preservation
Publication date: January 7, 2022.