Vol. 49 (2022), pp. 9–15 •


1.52 MB • español
RESEARCH ARTICLE
Textiles, Basketry and Infant Burials during the Bronze Age: Cave No. 9 at Monte Bolón (Elda, Alicante, Spain) as a Paradigm
Ricardo E. Basso Rial, Francisco Javier Jover Maestre, Juan A. López Padilla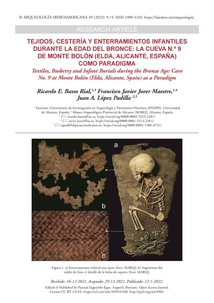 Abstract
New data are presented on the Monte Bolón infant burial related to the textile evidence: the radiocarbon dating of the linen fabric, coinciding with the chronology of the buried individual, as well as the identification of splicing as the technique used for its elaboration.
Keywords
Bronze Age; burials; textile; basketry.
Cite as
Basso, R. E.; F. J. Jover; J. A. López.
2022.
Tejidos, cestería y enterramientos infantiles durante la Edad del Bronce: la cueva n.º 9 de Monte Bolón (Elda, Alicante, España) como paradigma.
Arqueología Iberoamericana
49: 9-15.
Other Persistent Identifiers
Guaranteed preservation
Publication date: January 12, 2022.