Vol. 49 (2022), pp. 24–31 •


1.35 MB • español
RESEARCH ARTICLE
First Records of Obsidian from Nevados de Sollipulli (Araucanía Mountain Range, Chile) at Aluminé (Neuquén, Northern Patagonia, Argentina)
Alberto E. Pérez, Tomás S. Santelices Quiroga, Giovanna T. Salazar Siciliano,
Luis M. Ricciuto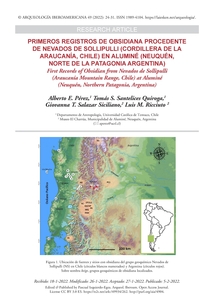 Abstract
We present the first records of obsidian from the Nevados de Sollipulli geochemical group (Chile) in the eastern Cordilleran sector, specifically in sites from the southern area of Aluminé, in the province of Neuquén (Argentina). It is postulated that the absence to date of the eastern Cordilleran record is due to the inherent limitations of the destructive techniques used. Non-destructive analysis by portable X-ray fluorescence (XRF) allowed us to identify its presence in three sites previously studied with negative evidence. Most of the artifacts are projectile points (two out of three), which suggests that this geochemical group is mostly present in the form of instruments, especially as isolated finds during camelid and 'Rheidae' hunting that are not found in the forest; because obsidian is available in the eastern Cordilleran sector, where different stages of the technical sequence are present.
Keywords
Obsidian; Nevados de Sollipulli; Chile; Aluminé; Argentina; X-ray fluorescence; XRF.
Cite as
Pérez, A. E.; T. S. Santelices; G. T. Salazar; L. M. Ricciuto.
2022.
Primeros registros de obsidiana procedente de Nevados de Sollipulli (cordillera de la Araucanía, Chile) en Aluminé (Neuquén, norte de la Patagonia argentina).
Arqueología Iberoamericana
49: 24-31.
Other Persistent Identifiers
Publication date: February 5, 2022.