Vol. 49 (2022), pp. 36–44 •


2.20 MB • português
REVIEW ARTICLE
Pedra do Atlas: A Synthesis of the Archaeological Research and Future Perspectives
Luis Carlos Duarte Cavalcante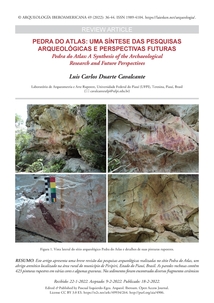 Abstract
This paper presents a brief review of the archaeological research carried out at the Pedra do Atlas site, a sandstone shelter located in the rural area of the municipality of Piripiri, State of Piauí, Brazil. The rock walls contain 423 rock paintings in various colors and some engravings. Several ceramic fragments and vestiges of red and yellow mineral pigments were found in the sediments, as well as some lithics. During the last thirteen years, eleven expeditions have been conducted to the site and the vestiges of ancient human activities have been investigated 'in situ' and in the laboratory. Archaeometry has been applied in most of the work performed, and an experimental strategy with different analytical techniques has made it possible to obtain consistent results.
Keywords
Rock paintings; mineral pigments; pictorial activity; archaeological pottery; Archaeometry.
Cite as
Cavalcante, L. C. D.
2022.
Pedra do Atlas: uma síntese das pesquisas arqueológicas e perspectivas futuras.
Arqueología Iberoamericana
49: 36-44.
Other Persistent Identifiers
Publication date: February 18, 2022.