Vol. 49 (2022), pp. 45–55 •


1.10 MB • español
RESEARCH ARTICLE
New Evidence of Craft Specialization in the Chiefdoms of Río Grande, Panama (AD 780–1000)
Carlos Mayo Torné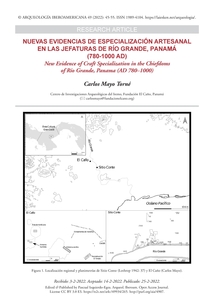 Abstract
This paper presents new evidence of craft specialization in pre-Hispanic Coclé through a set of plates found at Sitio Conte (PN-5) in the first half of the 20th century. The variability analyses show a similar uniformity between the plates from Sitio Conte and the coetaneous pottery from the neighboring site of El Caño (NA-20), which was interpreted as an indirect evidence of craft specialization in the area. The results of the statistical analyses of both ceramic assemblages show a homogeneity in the mean dimensions of the vessels, which could support the hypothesis that the same artisans participated in their manufacture.
Keywords
Craft specialization; Panama; archaeology; Coclé; Sitio Conte; El Caño.
Cite as
Izquierdo-Egea, P.
2022.
Nuevas evidencias de especialización artesanal en las jefaturas de Río Grande, Panamá (780-1000 AD).
Arqueología Iberoamericana
49: 45-55.
Other Persistent Identifiers
Publication date: February 25, 2022.