Vol. 49 (2022), pp. 56–66 •


1.73 MB • español
RESEARCH ARTICLE
Stone and Obsidian Artifacts from the Bolaños Culture, Mexico
María Teresa Cabrero G.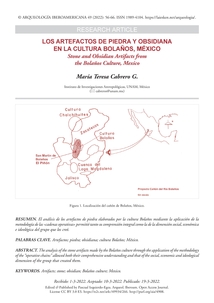 Abstract
The analysis of the stone artifacts made by the Bolaños culture through the application of the methodology of the "operative chains" allowed both their comprehensive understanding and that of the social, economic and ideological dimension of the group that created them.
Keywords
Artifacts; stone; obsidian; Bolaños culture; Mexico.
Cite as
Cabrero, M. T.
2022.
Los artefactos de piedra y obsidiana en la cultura Bolaños, México.
Arqueología Iberoamericana
49: 56-66.
Other Persistent Identifiers
Guaranteed preservation
Publication date: March 19, 2022.