Vol. 49 (2022), pp. 67–72 •


866 KB • español
RESEARCH ADVANCE
Evidence of a New Puruha Necropolis in the Puculpala Community (Quimiag, Riobamba, Ecuador)
Pedro A. Carretero Poblete, Estefanía Egas Vásquez, Mauro J. Jiménez Granizo,
Benito Mendoza Trujillo, Ángel Paredes García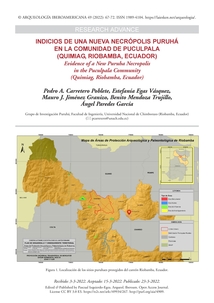 Abstract
The parish of Quimiag is part of the Riobamba canton (Chimborazo, Ecuador). This territory has had so far no material remains of the Puruha culture in published studies. While connecting a series of irrigation pipes in an agricultural area, workers located a set of complete vessels. An inspection of this context was carried out, observing numerous fragments of Puruha pottery belonging to burials that could be ascribed to the Integration Period (AD 500–1490). The present report provides an analysis of some of the materials that appear on the surface in order to delimit and protect the site.
Keywords
Puruha; Quimiag; Puculpala; Integration Period; Ecuador.
Cite as
Carretero, P. A.; E. Egas; M. J. Jiménez; B. Mendoza; Á. Paredes.
2022.
Indicios de una nueva necrópolis puruhá en la comunidad de Puculpala (Quimiag, Riobamba, Ecuador).
Arqueología Iberoamericana
49: 67-72.
Other Persistent Identifiers
Guaranteed preservation
Publication date: March 23, 2022.