Vol. 49 (2022), pp. 73–84 •


2.67 MB • español
RESEARCH ARTICLE
Beyond Té Zulay: Ceramic Analysis of Río Chico and Other Sites in the Pastaza Valley, Ecuador
Ferran Cabrero, Edwin Aguirre, Johanna Ramírez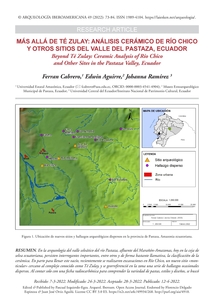 Abstract
Important questions persist in the archaeology of the jungle valley of the Pastaza River, a tributary of the Marañón-Amazonas, today in the Ecuadorian jungle belt, among others and quite strikingly, the classification of ceramics. In part to fill this void, excavations were recently conducted at Río Chico, a new mound-like site near the complex known as Té Zulay, and a number of scattered occasional finds were geo-referenced in the area. Having only a radiocarbon date to understand the variety of pastes, styles and designs, an alternative methodology was sought. The aim of this paper is to interpret the archaeological cultural material found in the area, from 2016 to the present day, through its comparison and the estimation of ceramic firing temperature.
Keywords
Ecuador; Amazonia; ceramic firing; Archaeometry; Amazonian archaeology.
Cite as
Cabrero, F.; E. Aguirre; J. Ramírez.
2022.
Más allá de Té Zulay: análisis cerámico de Río Chico y otros sitios del valle del Pastaza, Ecuador.
Arqueología Iberoamericana
49: 73-84.
Other Persistent Identifiers
Guaranteed preservation
Publication date: April 12, 2022.