Vol. 49 (2022), pp. 85–96 •


2.58 MB • español
RESEARCH ARTICLE
Littoral Sites in the Cabo de Gata-Níjar Natural Park (Almería, Spain) and Changes in the Coastline
María Juana López Medina, María de la Paz Román Díaz,
Manuela García Pardo, Manuel Berenguel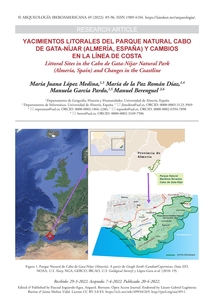 Abstract
The exploitation of natural resources, both terrestrial and marine, has conditioned the presence of population centers since prehistoric times in the Cabo de Gata-Níjar Natural Park. As it intensified since ancient times, the human footprint on the landscape was accentuated, breaking the fragile coastal erosion-sedimentation balance by interacting with natural processes, especially from the 1950s; producing changes in the coastline that affected the archaeological sites. One of our lines of research is to reconstruct the original environment of these habitat and production sites bearing in mind these transformations.
Keywords
Southeast Spain; coastline; transformation; Prehistory; Antiquity; purple.
Cite as
López-Medina, M. J.; M. P. Román-Díaz; M. García-Pardo; M. Berenguel.
2022.
Yacimientos litorales del Parque Natural Cabo de Gata-Níjar (Almería, España) y cambios en la línea de costa.
Arqueología Iberoamericana
49: 85-96.
Other Persistent Identifiers
Guaranteed preservation
Publication date: April 20, 2022.