Vol. 49 (2022), pp. 104–116 •


3.93 MB • español
RESEARCH ARTICLE
Landscape Modification and Subsistence during the Integration Period in the Pachijal River Sub-Basin, Pacto, Ecuador
Andrés Mosquera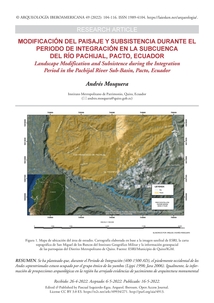 Abstract
It has been suggested that, during the Integration Period (AD 400–1500), the western foothills of the northern Andes were occupied by the Yumbo ethnic group (Lippi 1998; Jara 2006). Likewise, information from archaeological surveys in the region has yielded evidence of sites of monumental architecture widely distributed through the cloud forest ecosystem located in northwestern Ecuador (Erazo 2004). In addition, the interpretation of the exchange of the societies settled in the western piedmont has been predominantly based on the micro vertical economic model, in which the societies of the western foothills are generally characterized as traders (Jara 2006; Lippi 2010). On the other hand, recent research has yielded new data in an area of the western piedmont that has been little explored by archaeologists and was named as the Pachijal River sub-basin, Pacto, Ecuador (Mosquera 2020). Thus, based on the analysis of data collected in archaeological surveys and excavations (Mosquera 2020), this paper presents a new proposal to examine how the chiefdoms settled in the Pachijal River sub-basin during the Integration Period modified the landscape and designed strategies for subsistence, which show evidence of an economy more focused on self-subsistence.
Keywords
Landscape modification; subsistence; Yumbo Indians; western foothills; cloud forest; Pachijal; Pacto; Ecuador.
Cite as
Mosquera, A.
2022.
Modificación del paisaje y subsistencia durante el Periodo de Integración en la subcuenca del río Pachijal, Pacto, Ecuador.
Arqueología Iberoamericana
49: 104-116.
Other Persistent Identifiers
Guaranteed preservation
Publication date: May 16, 2022.