Vol. 49 (2022), pp. 117–120 •


120 KB • español
RESEARCH ADVANCE
The Law of Social Inequality according to the Archaeology of Social Phenomena
Pascual Izquierdo-Egea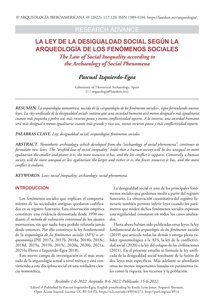 Abstract
Nomothetic archaeology, which developed from the "archaeology of social phenomena", continues to formulate new laws. The "unified law of social inequality" holds that a human society will be less unequal or more egalitarian the smaller and poorer it is, the more resources it has, and the less conflict it supports. Conversely, a human society will be more unequal or less egalitarian the larger and richer it is, the fewer resources it has, and the more conflict it endures.
Keywords
Law; social inequality; archaeology; social phenomena.
Cite as
Izquierdo-Egea, P.
2022.
La ley de la desigualdad social según la arqueología de los fenómenos sociales.
Arqueología Iberoamericana
49: 117-120.
Other Persistent Identifiers
Publication date: June 15, 2022.