Vol. 50 (2022), pp. 5–14 •


2.02 MB • português
RESEARCH ARTICLE
Archaeometric Analysis of Saline Efflorescences from the Pedra do Cantagalo I Archaeological Site, Brazil
Luis Carlos Duarte Cavalcante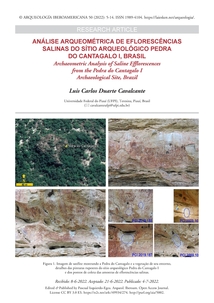 Abstract
The Pedra do Cantagalo I archaeological site is a sandstone shelter located in the rural area of the municipality of Piripiri, Piauí, Brazil, decorated with more than 1,950 rock paintings representing abstract figures, spear throwers, human handprints, anthropomorphs and zoomorphs in polychromatic patterns. In addition to the high density of prehistoric inscriptions and the polychromy, this site also stands out for the recurrence of painted motifs and their overlapping among each other. Ceramic and lithic fragments and mineral pigments of various colors were found in the sediments. Samples of saline efflorescences were analyzed by energy dispersive X-ray fluorescence (EDXRF), X-ray diffractometry (XRD), scanning electron microscopy (SEM) and energy dispersive spectroscopy (EDS). The experimental XRD measurements showed the occurrence of quartz, SiO2, alunite, KAl3(SO4)2(OH)6, gypsum, CaSO4·2H2O, and taranaquite, (K, NH4)Al3(PO4)3(OH)·9H2O. EDS spectra suggest the occurrence of calcium carbonate and magnesium phosphate. The analysis of the saline efflorescences is important, not only from a chemical-mineralogical point of view, but also of the rock art and rock support which are in an accelerated process of degradation.
Keywords
Rock art conservation; saline efflorescence; archaeometry.
Cite as
Cavalcante, L. C. D.
2022.
Análise arqueométrica de eflorescências salinas do sítio arqueológico Pedra do Cantagalo I, Brasil.
Arqueología Iberoamericana
50: 5-14.
Other Persistent Identifiers
Publication date: July 4, 2022.