Vol. 50 (2022), pp. 23–36 •


644 KB • español
RESEARCH ARTICLE
Ancestral Ceramic Production Techniques Applied to the Artistic Making of Whistle Bottles in Ecuador
Mónica A. Ayala Esparza, Miguel Molina-Alarcón, Galo Gallardo Carrillo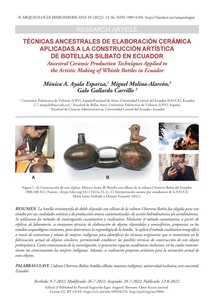 Abstract
The ornithomorphic double ellipsoid bottle with a whistle from the Chorrera-Bahia culture was chosen for this study because of its aesthetic qualities and "automated" sound production of hydrodynamic and/or aerodynamic action. Quantitative and qualitative research methods were used. By means of the quantitative method, from laboratory replicas, production techniques of ellipsoidal and semi-spherical objects, proposed in existing archaeological studies, were tested to determine the organology of the bottle. The ethnographic qualitative method was applied through interviews and stories of indigenous women to identify the original techniques that are maintained in the current manufacture of similar objects, allowing us to establish the possible making techniques of this pre-Hispanic object. As a result of this research, inclusive academic spaces were generated, in which indigenous women transmitted their knowledge. In addition, artistic projects for the current recreation of these objects were carried out.
Keywords
Chorrera-Bahia culture; whistle bottles; indigenous teachers; inclusive university; ancestral art; Ecuador.
Cite as
Ayala, M. A.; M. Molina-Alarcón; G. Gallardo.
2022.
Técnicas ancestrales de elaboración cerámica aplicadas a la construcción artística de botellas silbato en Ecuador.
Arqueología Iberoamericana
50: 23-36.
Other Persistent Identifiers
Publication date: August 12, 2022.