Vol. 50 (2022), pp. 44–53 •


259 KB • español
REVIEW ARTICLE
Rethinking the Punín Museum (Riobamba, Ecuador): From Monocultural to Multicultural Space
Juan Illicachi Guzñay, Pedro A. Carretero Poblete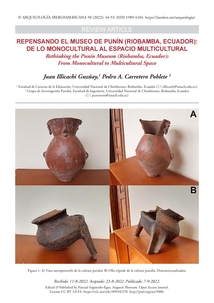 Abstract
The current conception of museums, both in the city of Riobamba as well as in the Punín Museum (Riobamba, Ecuador), examined here, is based from the point of view of the social and identity exclusion. Our proposal makes a journey from the condition of power to the appropriation of "the other" cultural centers at the disposal of the communities, in which the academy should contribute much from the point of view of a multicultural and intercultural perspective in the South.
Keywords
Museum; interculturalism; multiculturalism; pluriculturality; Riobamba; Ecuador.
Cite as
Illicachi, J.; P. A. Carretero.
2022.
Repensando el museo de Punín (Riobamba, Ecuador): de lo monocultural al espacio multicultural.
Arqueología Iberoamericana
50: 44-53.
Other Persistent Identifiers
Publication date: September 7, 2022.