Vol. 50 (2022), pp. 54–65 •


1.31 MB • português
RESEARCH ARTICLE
Mineral Pigments from the Pedra do Dicionário Archaeological Site, Brazil, Investigated by EDXRF, FTIR and XRD
Luis Carlos Duarte Cavalcante, Gilciane Lima do Nascimento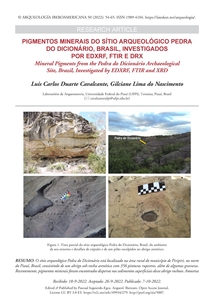 Abstract
The Pedra do Dicionário archaeological site is located in the rural area of the municipality of Piripiri, in northern Piauí, Brazil, consisting of a sandstone under-rock shelter with 356 rock paintings, as well as some engravings. Recently, mineral pigments were found dispersed in the superficial sediments of this rock shelter. Samples of the mineral pigments were analyzed by energy dispersive X-ray fluorescence (EDXRF), Fourier transform infrared energy absorption spectroscopy (FTIR) and powder X-ray diffractometry (XRD) to determine the chemical-mineralogical composition of these pictorial materials. The iron content in these mineral pigments, as determined by EDXRF, here expressed as Fe2O3, is ~14 to ~57 mass%. The XRD and FTIR data show that these pictorial materials contain hematite (αFe2O3), goethite (αFeOOH), quartz (SiO2) and kaolinite (Al2Si2O5(OH)4) as crystalline mineral phases. The XRD data show clear evidence that the ferruginous species have low crystallinity.
Keywords
Mineral pigments; ochre; archaeometry; Pedra do Dicionário; Brazil.
Cite as
Cavalcante, L. C. D.; G. L. Nascimento.
2022.
Pigmentos minerais do sítio arqueológico Pedra do Dicionário, Brasil, investigados por EDXRF, FTIR e DRX.
Arqueología Iberoamericana
50: 54-65.
Other Persistent Identifiers
Publication date: October 7, 2022.