Vol. 50 (2022), pp. 66–73 •


1.13 MB • español
RESEARCH ARTICLE
Domestic Craft in the Bolaños Culture, Mexico
María Teresa Cabrero G.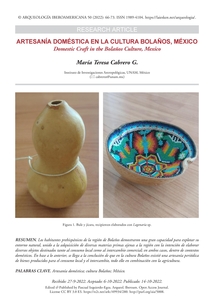 Abstract
The pre-Hispanic inhabitants of the Bolaños Canyon region demonstrated a great capacity to exploit their natural environment, together with the acquisition of various raw materials from outside the region, with the intention of producing various objects for both local consumption and commercial exchange; in both cases, within domestic contexts. Based on the above, it is concluded that in the Bolaños culture there was a periodic craft of goods produced for local consumption and exchange, all in combination with agriculture.
Keywords
Domestic craft; Bolaños culture; Mexico.
Cite as
Cabrero, M. T.
2022.
Artesanía doméstica en la cultura Bolaños, México.
Arqueología Iberoamericana
50: 66-73.
Other Persistent Identifiers
Publication date: October 14, 2022.