Vol. 50 (2022), pp. 94–97 •


787 KB • español
RESEARCH ADVANCE
An Unfinished "Mensa Ponderaria" in the Archaeological Collection from the Palace of the Countess of Lebrija, Seville, Spain
Daniel Becerra Fernández, María Luisa Loza Azuaga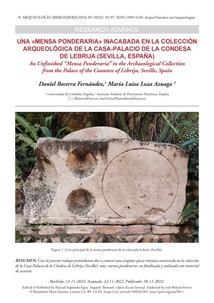 Abstract
With this paper we intend to highlight a unique Roman piece from the Palace of the Countess of Lebrija (Seville) collection, an unfinished "mensa ponderaria" made out of recycled material.
Keywords
Palace of the Countess of Lebrija; "mensa ponderaria"; "tabula mensaria"; Italica; marble workshop; Seville; Spain.
Cite as
Becerra, D.; M. L. Loza.
2022.
Una «mensa ponderaria» inacabada en la colección arqueológica de la Casa-Palacio de la Condesa de Lebrija (Sevilla, España).
Arqueología Iberoamericana
50: 94-97.
Other Persistent Identifiers
Publication date: November 30, 2022.