Vol. 50 (2022), pp. 98–103 •


128 KB • español
RESEARCH ADVANCE
On the Mechanics of the Process of Collapse of Civilizations
Pascual Izquierdo-Egea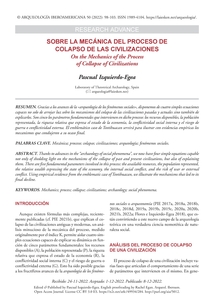 Abstract
Thanks to advances in the "archaeology of social phenomena", we now have four simple equations capable not only of shedding light on the mechanisms of the collapse of past and present civilizations, but also of explaining them. There are five fundamental parameters involved in this process: the available resources, the population represented, the relative wealth expressing the state of the economy, the internal social conflict, and the risk of war or external conflict. Using empirical evidence from the emblematic case of Teotihuacan, we illustrate the mechanisms that led to its final decline.
Keywords
Mechanics; process; collapse; civilizations; archaeology; social phenomena.
Cite as
Izquierdo-Egea, P.
2022.
Sobre la mecánica del proceso de colapso de las civilizaciones.
Arqueología Iberoamericana
50: 98-103.
Other Persistent Identifiers
Publication date: December 8, 2022.