Vol. 50 (2022), pp. 104–115 •


1.92 MB • español
RESEARCH ARTICLE
The Chapelco Chico 1 Site, Eastern Forested Sector of the Lacar Basin Foothills, Argentine Patagonia
Alberto Enrique Pérez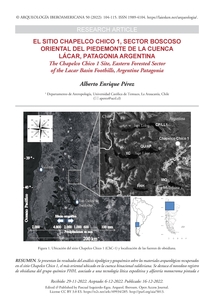 Abstract
This paper presents the results of the typological and geochemical analysis of the archaeological materials recovered from the Chapelco Chico 1 site, the easternmost site located in the binational Valdivian basin. A novel obsidian record of the FHH chemical group is highlighted, associated with an expeditive lithic technology and monochrome painted and incised pottery, which allows its association with other wooded and lacustrine contexts of both Andean mountain slopes: the Argentine Norpatagonia and the Chilean Araucania.
Keywords
Archaeology; lithic technology; ceramic technology; Lacar basin; Patagonia; Argentina.
Cite as
Pérez, A. E.
2022.
El sitio Chapelco Chico 1, sector boscoso oriental del piedemonte de la cuenca Lácar, Patagonia argentina.
Arqueología Iberoamericana
50: 104-115.
Other Persistent Identifiers
Publication date: December 16, 2022.