Vol. 50 (2022), pp. 128–135 •


1.79 MB • español
RESEARCH ARTICLE
Lime Mortar Pavement with Marble Inlays from the Demetrio de los Ríos House at Italica (Santiponce, Seville)
Fernando Amores Carredano, Sebastián Vargas-Vázquez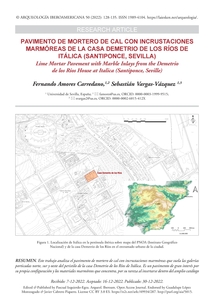 Abstract
This paper analyzes the lime mortar pavement with marble inlays that sole the north, south and west porticoed galleries of the peristyle from the Demetrio de los Ríos House at Italica. This pavement is of great interest because of its own configuration and the marble materials it contains, because of its rarity as it is included in the wide catalog of opera sectilia and traditional mosaics from the second century Italica, previously much more luxurious, and because of its own chronology, framed from the last third of the second century.
Keywords
Italica; Roman pavement; lime mortar; opus signinum; opus scutulatum; crustae; marble; Seville.
Cite as
Amores, F.; S. Vargas-Vázquez.
2022.
Pavimento de mortero de cal con incrustaciones marmóreas de la casa Demetrio de los Ríos de Itálica (Santiponce, Sevilla).
Arqueología Iberoamericana
50: 128–135.
Other Persistent Identifiers
Publication date: December 30, 2022.